2023 Acera Insurance Golf 4 Kids Fundraising Tournaments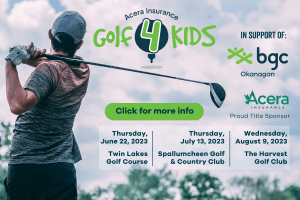 Registration is now open for the Acera Insurance (formerly Capri CMW Insurance) Golf 4 Kids events in Penticton, Vernon and Kelowna with the goal of raising $140,000 to support the life-changing programs BGC Okanagan offers to children, youth and families.
"With the funds raised from these golf events, we can provide a safe place of belonging with positive role models for young people. A place where they can experience new opportunities, overcome barriers, build positive relationships, and develop confidence and skills for life," said Richelle Leckey, Community Engagement Coordinator at BGC Okanagan.
Register for a day of fun and fundraising taking place in the South Okanagan on Thursday, June 22 at Twin Lakes Golf Course, in the North Okanagan on Thursday, July 13 at Spallumcheen Golf and Country Club, or in Kelowna at The Harvest Golf Club. Registration includes golf, dinner and prizes. A silent and live auction will also take place.
"Through our programs we have seen many lives changed for the better. With the help from our local business community and supporters of this event, we will continue to provide a valuable service to the young people in the Okanagan. We offer many options to showcase your support by registering a team, becoming a sponsor, and/or donating to our silent auction," said Leckey.
BGC Okanagan Clubs offer access to opportunities children and youth might not find outside Club walls through their daycare, preschool, after-school, recreation, youth and family programs.
"We are very proud to be back as title sponsor for Golf 4 Kids to help raise funds for BGC Okanagan's essential programs and services. Giving back and making a positive impact in our local community is deeply rooted in our core values," said Erika Jarvis of Acera Insurance. "We are honoured to partner with a charity that is making a difference every day in the lives of children, youth and families. We hope that our participation inspires others to join us in supporting this incredibly meaningful cause."
To register, or for more information, visit www.bgco.ca/golf-tournaments.
About BGC Okanagan
Since BGC Okanagan established their first Club in 1959, we have continued to provide vital, life-changing services and programs that continue to adapt to meet the needs of all children, youth, and families.
Our mission is to provide a safe, supportive place where children and youth can experience new opportunities, overcome barriers, build positive relationships, and develop confidence and skills for life.
Our trained staff and volunteers give children, youth, and families the tools to realize positive outcomes in self-expression, academics, healthy living, physical activity, mental health, leadership and more. If a young person needs it, our Club provides it because opportunity changes everything.