Celebrate BGC Club Day with us on social media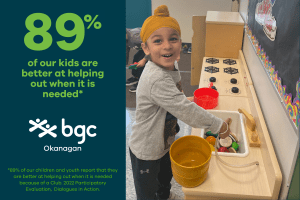 Friday, June 2, is BGC Club Day, a national awareness day celebrating the life-changing impact BGC Okanagan and Clubs in communities across Canada have on young people and their families.
"We are more than after school programs. We are advocates for children and youth and a safe place to find belonging. We provide programs to support positive outcomes in self-expression, mental health and recreation programs, food for kids and families and so much more," said Jeremy Welder, BGC Okanagan CEO.
Formerly known as Okanagan Boys and Girls Clubs, BGC Okanagan has over 50 service locations where they support young people through daycare, preschool, after school care, recreation, youth and family programs.
In a recent survey of Club children and youth about how their time has impacted them it was found that because of a Club; 85% of our kids are more confident, 87% of our kids make better choices and 91% of our kids are more connected to people they like.
"At BGC Okanagan we want to nurture a safe and supportive environment where kids can experience new opportunities, build positive and healthy relationships and gain essential life skills, all while being respected, feeling a sense of belonging and having the support to achieve their dreams," said Welder. "We know the journey isn't easy, but it can be achieved with patience, determination and the proper guidance. We are here to provide that guidance."
On BGC Club Day they will celebrate the opportunities they create for young people.
In Penticton, the lights outside the South Okanagan Events Centre will be in BGC green;
In Vernon, the Polson Park fountain will be flowing green water;
Staff across the Okanagan have created fun activities to celebrate with Club members including carnival games, a family recreation night, an event highlighting different cultures and traditions, a visit from an interactive travelling theatre group and more.
BGC Okanagan is inviting everyone to be part of the unbelievable impact they have in the Okanagan. Whether you're a former or current Club member, a BGC Okanagan supporter or have kids who go to the Club, share your story on social on June 2, with the hashtag #BGCClubDay and tag @BGCOkanagan.
You can also show your support by registering as a golfer or sponsor for the upcoming Acera Insurance Golf 4 Kids Day tournaments happening at Twin Lakes Golf Course on June 22, Vernon at Spallumcheen Golf and Country Club on July 13, and in Kelowna at The Harvest Golf Club on Aug. 9.