BGC Okanagan leader honoured for work in community safety, crime prevention
(Nov. 8, 2021) – A BGC Okanagan staff member is among six community leaders who received awards for their ongoing efforts in supporting victims of crime, including initiatives focused on gender-based violence and restorative justice.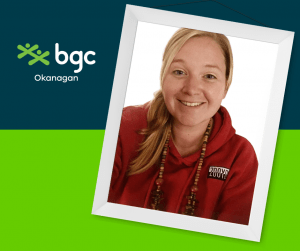 Winner of the Restorative Justice Memorial Award, Meghan Ramsay, is a vital member of BGC Okanagan. As program co-ordinator of the Youth Restorative Justice Program, Ramsay shows great passion, providing exceptional leadership and support in creating partnerships that educate and spread awareness about restorative justice principles. Particularly throughout the pandemic, Ramsay has championed the Youth Restorative Justice program and helped expand partnerships within the community, where the positive impact of the program is widely seen.
Ramsay and the other community leaders were celebrated at the 24th annual Community Safety and Crime Prevention Awards, held by a virtual ceremony on Nov. 5, 2021.
"Those we honour with these awards are exemplary community-builders whose work helps those impacted by crime, violence, and victimization," said Mike Farnworth, Minister of Public Safety and Solicitor General. "This year's recipients have helped people in their communities to live with less fear and more ability to just be themselves and live their lives in safety. I congratulate each of the winners and hope their work inspires others to consider how they, too, might help to further public safety in their communities across B.C."
The awards acknowledge individuals, non-profit organizations, police and other local partners for their work in advancing crime prevention, restorative justice and other approaches that keep communities safer. These efforts support provincial initiatives in community safety, victim services, and policing.
BGC Okanagan Restorative Justice program
For the past two years, Ramsay has served as the program coordinator of BGC Okanagan Youth Restorative Justice Program, an agency that support children, youth, and families across the Okanagan Valley. Ramsay leads a committed team of 10 Peace Circle facilitators, a restorative justice caseworker, and a team of dedicated restorative justice volunteers.
Prior to the program coordinator role, Ramsay served as the caseworker for the Youth Restorative Justice program for two years. In this role, Ramsay was appointed the task of case managing and facilitating restorative justice conferences for youth 11-24 years who had been referred to the Restorative Justice program. It is through the caseworker role that Ramsay
soon realized that families were able to communicate their feelings, challenges, and strengths within an appropriate environment where participants felt safe – emotionally, physically, spiritually, and mentally.
Peace Circle project
In 2020, Ramsay implemented the Peace Circle project after the program received the Civil Forfeiture grant funding. The project focused on training peace circle facilitators to support youth, ages 11-24, and their families through the circle's process and providing safe spaces for the youth, their guardian, the person(s) harmed and other supports to discuss the effects
of the youth's actions and how to repair the harm done. The peace circles allowed participants to have a structured yet flexible process to notice what challenges are creating barriers, work through those barriers as a team and create support plans that provide accountability, strategies, and implementation of the family's strengths.
Ramsay incorporates the values of BGC Okanagan of belonging, respect, working together, speaking out, encouragement and support by the way she leads the dedicated restorative justice staff and volunteers and in the supportive work she can provide youth and families within the Restorative Justice program. Ramsay's passion for supporting youth and families, and
the desire to support communication and healing within families, is shown through her continuous commitment throughout her career and life. Ramsay is inspired by the belief that a small group of people can make a
lasting and remarkable impact within the communities they serve.
"I want to extend my gratitude to all of this year's award winners who have shown commitment and dedication in supporting people facing violence, and helping make B.C. safer and more inclusive," said Grace Lore, Parliamentary Secretary for Gender Equity. "These leaders for justice and the safety of those who are vulnerable has made a big difference in the lives of so many people and their communities."
The Community Safety and Crime Prevention Awards were presented to:
Wanda Watts, Smithers
Karyn French, Victoria
Meghan Ramsay, Kelowna
Satbir Cheema, Surrey
Mssko Wakil, Burnaby
Aaron Pete, Chilliwack
2021 Community Safety and Crime Prevention Awards virtual presentation: