BGC Okanagan kicks off Gift of Giving campaign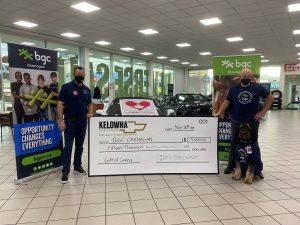 Nov. 30, 2021 – BGC Okanagan is aiming to raise $50,000 with their Gift of Giving campaign, launched on Giving Tuesday, with every dollar donated providing opportunity to children, youth and families in the Okanagan.
"Investing in children, youth and families is how we remove barriers and create opportunities for all young people. With the community's generosity, we provide support to those that need us most. We help them become their best selves through the programs and services our caring staff offer. All they need is opportunity to be involved because opportunity changes everything," said BGC Okanagan CEO Jeremy Welder.
To help kick off the campaign, Kelowna Chevrolet has donated $15,000 and is challenging other businesses and individuals in the Okanagan to follow their lead and donate. A donation of just $10 can make an impact by providing a child or youth access to a safe, inclusive environment that aids emotional and physical growth.
"At Kelowna Chev we believe in the value of investing in our local community and giving back. We support a variety of charities and are excited to give back to BGC Okanagan. We know the programs and services they provide children, youth and families helps make our community stronger," said Ian Speckman, Kelowna Chev Dealer Partner.
Where do the funds go to?
Funds raised by the Gift of Giving campaign (running Nov. 30 to Dec. 31) supports local families through BGC Okanagan's life-saving programs. Whether that is providing someone their only meal of the day, homework help, a mental health check-in, a quick snack after school, a place of belonging, or giving a high five. BGC Okanagan Clubs offer everything they need in their lives, including access to opportunities they might not find outside Club walls.
Service Club also donates to BGC Okanagan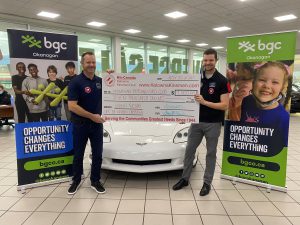 Joining Kelowna Chevrolet at the announcement on Giving Tuesday is the Kelowna Kinsmen, who presented a $7,000 donation to the campaign.
"The Kelowna Kinsmen believe that our communities' future is dependent on giving our kids and youth the best resources and opportunities to reach their full potential. We know first-hand how life-changing the programs offered by BGC Okanagan can be. Whether that's learning valuable skills, gaining life experience, or forging life-long relationships with adult role models, an investment at the beginning of someone's life always pays off for rest of it," said Kelly Hutchinson, President of Kelowna Kinsmen.
To find out more about the Gift of Giving campaign visit bgco.ca/gift-of-giving-campaign-2021/, or email info@bgco.ca. To donate online visit bgco.ca/donate and select the 2021 Gift of Giving in the drop-down menu.
Community Gift of Giving campaigns (click on links to read more):
Gift of Giving Snow Globe auction – view auction website here
Caroling For a Cause – keep updated on their activities here
WestJet Gift of Flight raffle (Only 330 tickets to be sold!) – click here to view the raffle details
Gift of Giving in the news:
Kelowna Capital News – BGC Okanagan kicks off Gift of Giving campaign with $22k in donations
Global Okanagan – Gift of Giving Snow Globes Auction Launches in Support of BGC Okanagan
Penticton Western News – Penticton Man's Love of Snow Globes Brightens BGC Okanagan
Castanet – Giving Tuesday in Kelowna: Local Non-Profits Mark #GivingTuesday