Trail Appliances Sharing a Little Warmth with Kids and Families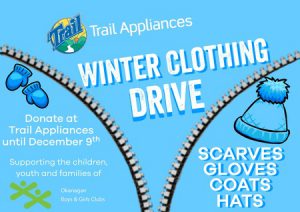 We are very excited to have Trail Appliances hosting a Winter Clothing Drive for the children, youth and families of Okanagan Boys and Girls Clubs.
From now to December 9th they will be collecting warm clothing at the Trail Appliances Store – 864 Leathead Rd, Kelowa and on December 7th you will find the Trail Appliances Team at the Kelowna Rockets collecting outside Prospera Place.
If you have new or very gently used winter clothes, feel free to visit the Trail Appliance
Showroom…..which is very inviting since completing most of the renovations…..and drop the items in the marked box.
Thank you so much to Trail Appliances for keeping our children and families a little warmer this winter season.