Prime Minister Justin Trudeau visits BGC Okanagan Club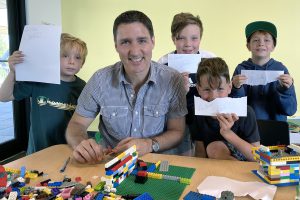 It was ranked by one BGC Okanagan participant as a "100 out of 100" day when Prime Minister Justin Trudeau stopped by to spend time with children at the Lake Country Club on July 18.
"I met the Prime Minister at BGC Okanagan. It was really cool because you don't see him every day … I told him that most of us would like to get his autograph," said eight-year-old Oscar, who was ecstatic when Trudeau obliged in their request. "I am going to put in a glass frame and put it in my bedroom and keep it for my life."
Prime Minister Trudeau met with BGC Okanagan administration and toured the beautiful new facility for the Lake Country Club at the Multi-generational Activity Centre (MAC). He spent most of his time visiting with the children at summer day camp and daycare asking about how their summer vacations were going, looking at the art projects they were working on and then he went outside to dig around in the sandbox with the toddlers in daycare.
"It was an honour to be chosen as one of the stops the Prime Minister would be making during his trip through the Okanagan so he could see first-hand the positive impacts our Clubs have through the welcoming and safe spaces we offer young people to learn, make friends and become active and engaged community members," said Kirstie Blanliel, BGC Okanagan Director of Operations. "You could feel the energy of how excited the kids were to meet the Prime Minister. Having the opportunity to speak with him and show them their artwork and Lego creations made it an extra-special day at the Club for them."
Trudeau chose to visit the Club during a tour through the Okanagan that also included visits to the BC Tree Fruits Cooperative in Kelowna, a family farm in Summerland and a stop on the Trans Canada Trail aboard the Kettle Valley Steam Railway.