Family Gathering event fosters connections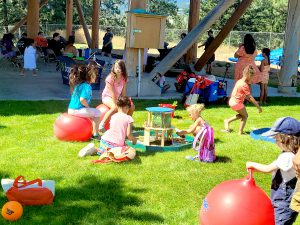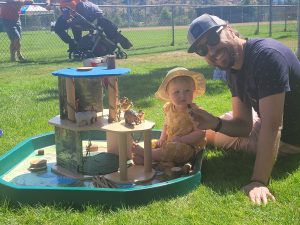 On Saturday, Aug. 13, the community came together alongside səxʷkn̓xitəlx k̓l̓ c̓əc̓əmálaʔ Early Years table (those who care for children) for the 13th Aboriginal Family Gathering at the Westbank First Nation pavilion.
This is a collaborative group consisting of Elders, Métis Community Services, Ki-Low-Na Friendship Society, Okanagan Nation Alliance, Westbank First Nation and community partners. Together they work towards healthy child development.
"BGC Okanagan was honoured to be invited to join the Aboriginal Family Gathering and to be part of this celebration and sharing of local Syilx and Métis culture and language," said Becky Kirkham, Manager, Early Years at BGC Okanagan.
The day was opened up by Syilx elder Delphine Armstrong and MC for the day was Westbank First Nation member Jordan Coble. Organizers said the event was a success, having over 240 participants throughout the day.
"There is also a large Métis population in the Central Okanagan and this is such a great opportunity to see different Aboriginal groups come together for our children. It is our opportunity for us to show that everyone is working together for our children and for our families," said Kim Kosik, səxʷkn̓xitəlx k̓l̓ c̓əc̓əmálaʔ Coordinator. "The event also serves as a day of fun for families that have had their children taken by the Ministry of Children and Family Development and have limited or supervised visits. For those parents, they can find opportunities to speak to others in the same position and learn how to get their children back into their care."
Activities included an opportunity to sing nsyilxcən children's songs with Michelle Joe, a children's drumming circle with Maria Laboucan, inflatables, giant yard games, face painting, a lacrosse station hosted by local Kelowna Raiders player Cody Teichroeb and much more.
There were interactive displays for children by community partners: the City of Kelowna Recreation, Okanagan Regional Library- Westbank branch, Childhood Connections, Central Okanagan Family HUB, Okanagan Nation Alliance, Metis Community Services, and the BGC Okanagan.
Free transportation was provided for families throughout Kelowna and West Kelowna, and a free lunch was handed out by the Syilx girls and boys basketball teams.
"It was a great day providing children and families of the central Okanagan with a safe, inclusive environment to foster connection and allow families to have a fun day together," said Kosik.
Donors for the event were: Kal Tire, Ntityix Development Corp., Independent Grocer, Sun Rype, and the Okanagan Tree Fruit Project.
For more information visit www.suxknxitelxklcecmala.com or visit the Facebook group at https://www.facebook.com/groups/1151450478530162/